Name: Louis Arnold
Job Title: Insurance Technician
Interesting Facts about Louis:
I once worked and lived onsite for a Olympic Gold Medallist Showjumper Ben Maher!
I have two' Sausage' dogs (Dachshunds) called Eric & Wilma
About Louis….
I started with Equesure in January as an Insurance Technician, I have extensive Equine background knowledge and studied at The College of West Anglia for 3 years, acquiring a Distinction in National Diploma in Equine Management (NPTC), a BTEC First Diploma in Horse care and multiple BHS exams.
A little bit about his horse:
Rosie came to me in April 2020 with quite a history of multiple behaviour issues and some medical ailments. Rosie is a 15.2h Chestnut Mare (yes, the typical type too!!), I have worked closely with Rosie which has helped her to become more confident and we have built a strong partnership. It has not been a very easy experience, however, the light is slowly shining at the end of the tunnel!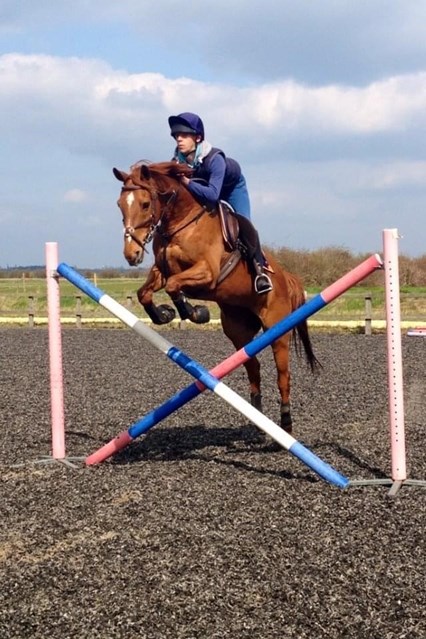 What age did you start riding?
I was very young boy, my father was heavily involved with Gypsy cobs, I would always go with him when he went to see to them. Multiple times I was placed on their backs and just left there whilst he got on with whatever he was doing. Thankfully they were 'sensible' enough to just carry on eating! My love and passion for horses grew from there onwards. I had about 4 years where I didn't own a horse and I missed it every day – I even missed winter with horses! Now anyone with horses will know winter isn't all that nice!
Which disciplines do you take part in?
I have taken part in many different disciplines, Show jumping, Dressage (two tests in which I was heavily bribed into doing! 'Stressage' wasn't my thing!) Cross-country... only when I was feeling brave (the solid fences had my heart in mouth!!!), riding club activities, hacking and forest/beach rides.
Favourite part of your job?
The best thing about working for Equesure is being a part of such a wonderful, like-minded team - and of course being able to talk about horses all day!
Keep up to date with news and events by following our Facebook page.
Find out more about the policies we can offer: