Driving a horsebox is a somewhat different experience to driving a car. The extra weight on board and the physical size of the vehicle mean you must take extra care when out and about on the roads – not least because of the precious cargo you have on board.
Before you even get behind the wheel you need to make sure you have the right type of licence to drive the vehicle. Check out our recent article on how to pick the right horsebox for you, to work out which type of licence you'll need.
Horseboxes, especially the larger, coach-built models, are more like motorhomes or lorries and you may have to adapt your driving style in order to stay safe on the roads.
You'll also need to understand the maximum authorised weight or MAM of the vehicle. This is the weight of the horsebox including the maximum load that can be carried, including the horse, the tack, your passengers and so on.
In this article we'll talk about horsebox handling, how to keep your pony and your passengers safe and sound and why it's important to have dedicated horsebox insurance in place in case anything goes wrong. 
Take things slowly
Once you've got your licence sorted, and you're about to head out for the first time in a new vehicle, one of the most important things to remember is to take things slowly and give yourself time to read the road ahead.
You'll need to leave lots of extra room for cyclists and parked cars. Perhaps your shiny new model has air brakes that you need to get used to?
Or maybe it's an older second-hand model with no power steering? Give yourself time to adjust to this new vehicle and don't make your first-ever journey a long one.
If you've got an HGV, you may want to consider taking proper lessons with an instructor. They will be able to teach you about stopping distances, reading the road, the best way to turn and park and so on.
Above all, they'll be able to give you confidence in handling this larger vehicle on today's busy roads.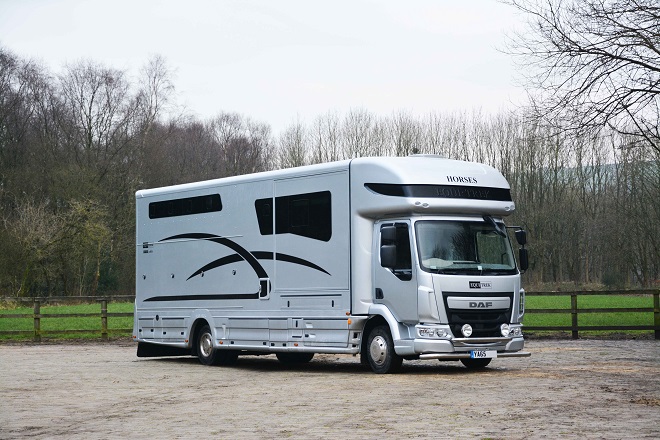 Stick to the speed limit
Driving at the correct speed limit is essential, not only for legal reasons but also for the safety of your horse and passengers. As VOSA explains, the following limits apply:
Horsebox without a trailer up to 7.5 tonnes
30mph in built up areas
50mph on single carriageways
60mph on dual carriageways
70mph on motorways
Horsebox with or without trailer exceeding 7.5 tonnes
30mph in built up areas
40mph on single carriageways
50mph on dual carriageways
60mph on motorways
How many hours will you be driving?
Whether you're an amateur rider driving to a local show or a competing professional travelling all around the country, driving a horsebox can be tiring work.
Tiredness on the road can cause accidents or even kill, so don't put yourself, your horse or other road users at risk.
Think about your ability to drive, particularly after a long day in the saddle and take lots of breaks, especially if you're driving through the night. 
If you need to drive the horsebox in relation to a business, there are EU Drivers' Hours that you need to abide by, namely:
You must not drive for more than 9 hours in a day
No more than 56 hours in a week or 90 hours in two consecutive weeks
A break of at least 45 minutes after driving for 4 and a half hours
If you're transporting horses for financial gain, you may also need to get a Certificate of Competence to prove you have the right skills and experience to transport the animals safely.
If you're not sure if you'll be using your horsebox for business purposes or not, talk to the team at Equesure. We can help you find the right horsebox insurance to suit  your needs.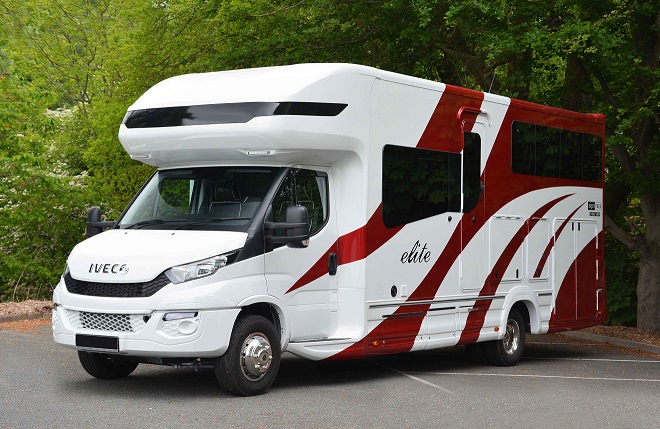 Walkaround checks for horsebox owners
Horseboxes may not get used from one week to the next, so it's important to check that the vehicle is roadworthy before jumping in and hitting the road.
VOSA suggests a list of walkaround checks horsebox owners should do before turning the key. They also remind us that they regularly carry out random roadside inspections at locations around the UK, so make sure you don't get caught out.
A driver's walkaround checks should include:
Speed limiter
Speedometer
Parking brake
Reflectors
Wheels and tyres
Suspension
Steering
Service and secondary brakes
Brake system
Tachograph
Taking care on the move
If you own one of the larger, coach-built horseboxes, you'll probably have a comfortable seating area at the rear.
This provides a great space to sit, eat and entertain when you're at shows, events or competitions. But be very careful about sitting in this space when the vehicle is on the move.
As VOSA explains, while it's not actually illegal to stay in the accommodation area when the horsebox is moving, it wouldn't have been built with that in mind.
Horsebox owners should also check what seatbelts are required, if any, for themselves and their passengers.
VOSA has a simple table that explains what type of belt is needed, depending on when seat belts were first used in the vehicle.
The risks of ignoring the law
Overloading your horsebox, serious mechanical defects and exceeding legal driving hours are all serious offences that put you and other road users at risk.
If you're found to be ignoring the laws around horseboxes, you could land yourself with a £5,000 fine and/or up to two years in prison.
Find specialist horsebox insurance today
Whether you own a 3.5 tonne horsebox or you're ready to upgrade to an HGV, the Equesure team can help you find the right horsebox insurance cover for you.
We have experience in finding cover for the most popular horseboxes including Equi-Trek, Empire, Ifor Williams, Alexanders and more.
We can also find you a policy that includes breakdown cover, so you won't have to worry about your horsebox getting stranded on a potentially dangerous road.
Remember we can also help you find dedicated horse insurance for your four-legged friend and horse rider insurance to protect yourself and others while you're out and about on horseback.
Call us on 01480 220089 or request a quote today by filling in the simple form on the website and one of our experienced team will call you back.