How to get into horse riding
Horse riding naturally appeals to many people, as it's the perfect hobby for animal and nature lovers alike. You will develop an indescribable bond with a spectacular creature, and in doing so it will bring both of you many benefits; both physical and mental.
Equestrian sports suit a variety of people: from those that love that adrenaline rush of racing to those that are seeking a calmer, more meditative activity in the fresh air.
For children and young people, not only does riding a horse offer fantastic physical exercise, but it can also teach some crucial life lessons in learning to care for animals.
We have compiled our best advice on how to get into horse riding, how to expand your knowledge and understanding, and what you should consider while doing so.
Choosing to commit to your very own four-legged friend can be one of the most enriching choices you can possibly make in your lifetime, and you will be welcomed into a fantastic community of horse lovers, too.
Calculate the costs of owning a horse
Owning a horse is a very rewarding life decision, but you should make a realistic financial plan to decide your level of involvement and capability before doing so.
Many factors can have an impact, such as whether or not you will be homing your Pony yourself, club and riding school membership fees, competition fees, and taking out the all-important horse insurance.
Take a look at our previous blog post 'How much does it cost to own a horse in the UK?' for a more detailed breakdown.
We can help you compare prices and offers across different horse insurance plans, to figure out the best fit for you and your circumstances. Equesure offer pick & mix policies for horses valued up to £750K.
Get to know your surroundings and where you will be riding
There's no doubt that some environments are idyllic for horse riding. Figure out if you will be riding your horse nearby, if they need transport, and if the surroundings are suitable for them.
You can consider yourself very lucky if you're located close to bridle paths, beaches, and forests, as horses love nothing more than roaming in the wild.
It's also worth researching to see if there are good-quality livery facilities nearby. If not, then you should reflect on where you can stable your horse, and whether it's easy enough for you to access and spend time with them on a daily basis.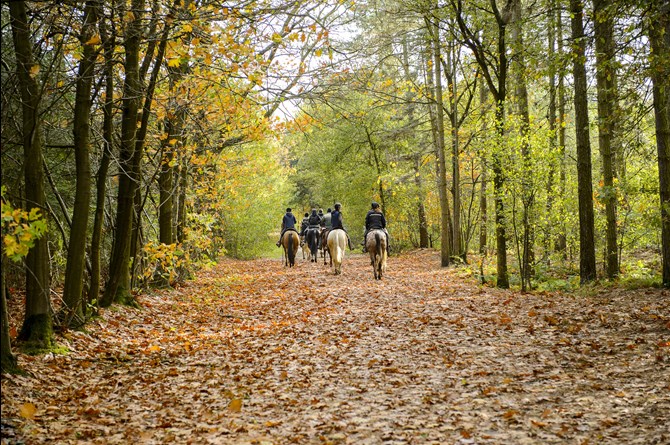 Figure out your time commitments
Learning to ride a horse is both a gratifying physical and mental journey; encompassing a number of factors. One to take into consideration is how much time you are willing to commit to both practising and learning.
You may wonder how long it takes to learn horse riding - which is not too dissimilar from asking how long a piece of string is. Like any new skill, you will need to ride regularly to reap the benefits and create the muscle memory. You will also need to know whether you can dedicate the time and effort it takes to look after your horse. It's a rewarding role but one that will take up a lot of your spare time.
Generally, if you commit to learning properly, it can take around 2 years to be competent in riding a horse including knowing all of the technical jargon, such as how to catch, tie, tack up, lead, canter, trot, gallop, ride, and so on.
What's more, riding a horse is great exercise, as you are working the core muscles that stabilise you: your back, pelvic muscles, and your abdominal muscles. It's also great cardio activity for maintaining a healthy heart.
Consider what equipment is necessary
Wearing proper horse riding gear is a must - and you should own your own core set before you own the horse yourself. It will make a massive difference in keeping your horse fit and well, keeping you safe while you ride, and both of you looking sleek.
If you're taking lessons, the school will provide all that you need until a later date. Eventually, you will want your own gear - and of course your very own riding companion. You will need a head collar and lead rope to collect them from their stable and field, and of course, equestrian clothing.
The standard set should include a hat, riding boots, chaps, jodhpurs (trousers), gloves and suitable socks. There's no shying away from the fact that buying good quality gear is an expensive endeavour, and to be fully kitted out from head to toe can cost a lot.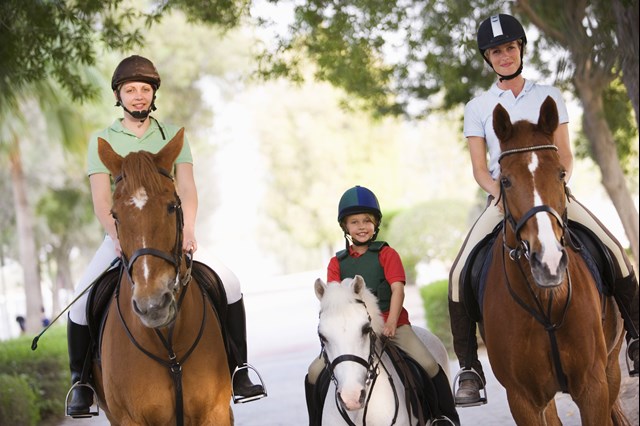 It's worth looking into buying second hand, but special horse riding equipment is by and large quite expensive. You should always try to purchase brand new equipment that is tailored to you as safety is paramount.
You will also need to take into account what is known as "tack". This includes saddles and saddle pads, turnout rugs and sheets, girths and bridles, lunging equipment and other items such as whips.
An essential grooming kit is also fundamental for looking after your horse properly - from the hooves all the way through to the mane.
Get to know the horse you are riding
Bonding with your new horse should be your first instinct upon getting into the sport. If you are buying a horse, don't be afraid to ask for a trial period. If it's a private seller, they will want to ensure their horse goes to a caring home so they'll want to make sure you are the right fit.
Horse riding is not simply getting on and riding away - it's about learning all there is to know about your new companion both inside and outside of the paddock. Try grooming your pony as often as possible, positively reinforcing them to show them that you appreciate them, or just going for a walk and spending some downtime with them. They love to play - and will bond with you like no other if you treat them right.
This is an important process. Greeting your horse will set the tone for your session together, and is an important part of riding. They will appreciate your mounting with confidence and openness, and you should try hard to get to know your horse's reactions so you can tune in to their every move. After all, you are in their saddle.
Give our previous article '5 tips for caring for your new horse' for more details on getting to know your horse.
Find your nearest horse riding club
Embracing the horseriding community is all part of the fun in joining this wonderful sport. We recommend heading to the British Horse Society where you can find a list of certified clubs across the UK. These clubs all pledge to promote horse welfare and educate their members properly, thanks to the work exerted by this equine charity.
Joining a club is helpful for horse riders of all ages and abilities. There is no particular 'age' that you should start horse riding, but children should generally be at least seven years old. At this age, they should be able to follow instructions, signal to their horse - and their legs should reach the stirrups down either side. What truly matters, however, is that a child demonstrates an interest in the subject before they even sit atop a horse.
In the UK pony clubs are often a way for young children to get into Equine activities and there are often clubs in your local areas.
Other than that, you can start learning to horse ride at any age within reason - it could just be the best thing you ever do!
Learn the correct positioning on a horse
Learning how to ride a horse correctly is fundamental to getting the basics. Any deviation from the basic positions can cause a significant effect on both you and your horse. In the same way that you must sit correctly on somebody's shoulders, the horse can always feel when you're sitting badly.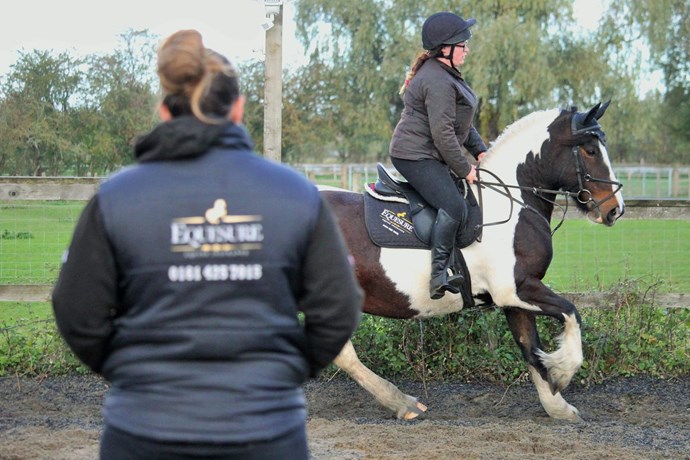 If you're wondering how to ride a horse for the first time, joining a riding school is your best bet, and you should always learn with a qualified instructor - and not from videos or reading a website. They will help you to iron out any bad habits before they begin, and give you confidence in the correct riding style.
Consider your horse's wellbeing
As an equestrian or a horse owner, you should be able to tell the signs when your horse is healthy or not. Factors such as the physical, physiological and emotional health of your horse are all of paramount importance.
As with all animals, they have a right to freedom from distress, hunger, and pain. Taking care of a horse goes a step further, and their conditions are very important to their overall wellbeing. These include:
A secure living environment
Exercise and movement
Safe transport
Shelter
Bedding
Your horse's diet should be a key consideration, too, and making sure that you have good quality forage and hard feed with the correct levels of energy and nutrients will keep all parties happy and prevent angry unhappy horses.
To shoe them or not to shoe them? This can be a challenging question. Familiarising yourself with the topic of horseshoes is a necessary part of taking good care of them. You should learn more about the pros and cons of shoeing your horse, depending on what they will be doing.
You should also learn the importance of vet checks once you have your own horse. They should be examined before purchase and given a once over by an Equine veterinary technician which is known as a 'vetting' and the veterinary will give you a clinical assessment of your new companion (this is often needed to be seen by insurer once you have taken out insurance cover). Depending on what you intend to do with your pony or horse, their needs will vary massively. An eventing horse, for example, will have different requirements to a pony that's just ridden for pleasure.
The important thing to remember is that you are well aware of any changes in behaviour or mood, and keep your horse's physical and mental health at the forefront of everything you do.
Familiarise yourself with the safety precautions when riding
There are certain procedures that should be implemented every time you mount your horse, and it's recommended that all beginners and intermediate riders should have some contact with an instructor, who will remind you of these precautions.
It may seem like there is a lot to remember - such as always wearing a helmet, checking tacks, group riding etiquette and so on. Over time, and with regular practice, it will become like clockwork.
Learn about the different types of horse riding
Riding a horse is a magical experience, regardless of whether you're roaming down country lanes, galloping across the beach, trotting across green fields, in a dressage test or cantering up to a difficult fence in a cross country event.
Get to know the various types of horse riding, and which one suits you best. Perhaps you want to try them all out for size - or maybe you have an idea of what you want to get out of it. The beauty of horse riding is that you don't know where it will lead you - but it's sure to change your life for the better.
You may only want to ride casually, and for many people, it is an enjoyable pastime with immense benefits for the mind, body and spirit.
Competitively, it's one of the few sports in which men and women can race at an equal level - and so the playing field is very even. There are many competitions for riders to take part in; all the way from beginners to advanced.
These include the likes of eventing, show jumping and dressage, which are all part of the Olympic equestrian sport.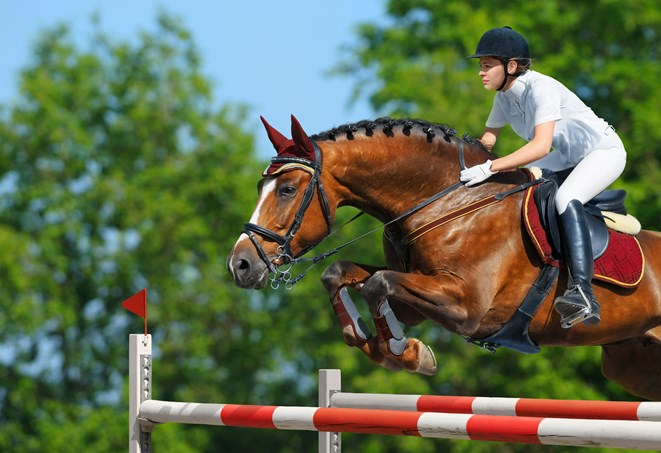 Amazingly, you can also combine the likes of gymnastics and vaulting with horse riding, but there also exists endurance races, disabled horse riding, reining, Polo, horse boarding (like snowboarding, but with your four-legged friend!) and much more.
You may also learn about the difference between English and Western riding. English riding refers to the flat, English saddle, as opposed to the high cantle you might recognise from American Western films. Why not try each style to see which one you like best?
Horse riding is a magical activity unlike any other; being around horses alone can bring you a wealth of benefits. There are many things to consider before you get into horse riding yourself, and while it's a great responsibility - taking the time to look after and enjoy these wonderful creatures is certainly worth the effort.
Protecting you and your horse with horse Insurance
Owning a horse can be an enjoyable and life-changing experience but it will also be a great responsibility. And, with equine husbandry costs on the rise, it's a great idea to invest in the right kind of horse insurance from the start. Though there are many factors involved, taking out a policy doesn't have to be complicated. At Equesure we can help you compare horse insurance quotes so that you can find exactly what you need for you and your new equine friend.  Why not get a quote today?