Just a quick introduction about us, what we have done, and where we plan to be!
Travis has been with me for 2 1/2 years and in every single, possible, imaginable way been the hardest horse I have ever owned! I bought him as a 15:2hh Irish Cob, hack. This is exactly what i wanted, something to wind down and enjoy while progressing in my career and bringing up my son. What I actually bought was a newly broken, now 16.1hh Shire x Thoroughbred, who is a complete stress head, with a magnesium intolerance and a digestive condition which means keeping weight on him is always a challenge, alongside the fact he is still growing! He has had 2 hospital visits due to colic, a sticky stifle and even a pulled hamstring from rolling over his bucket in the stable. Anyway, final after the longest and most expensive learning curve I seemed to have sussed what makes him tick physically and emotional, and somewhere, just somewhere are the glimpse of a gorgeous and talented horse!
So here I am, with a green horse, back out competing! Our aim for the next 2 years is Dressage, with the immediate future goal of being affiliated. Due to his size and lack of balance, without this established ground work, our jumping will not progress- although we dabble in it now and his enthusiasm and natural 'pop' is exciting, so I hope for a long term goal of low level eventing.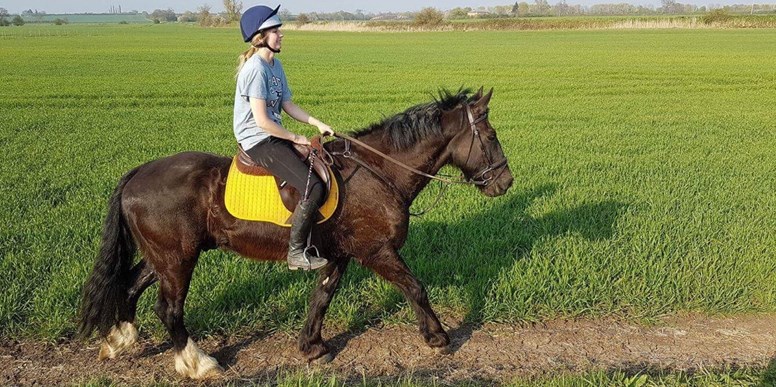 Just to make my life a little harder, I am so lucky to recently have the opportunity to keep my horse at home, the idea of waking up and drinking my morning tea while watching my horse graze is every little girls dream, however it has come at the expense of having no schooling facilities, just a few cones and an uneven grass surface BUT still totally worth it. With the help of Annelise and A* Equestrian and lots of school hire (which is an added bonus to getting miles on the clock for Travis) nothing is going to hold us back!
To put a face to a name - a little before and after from when I first got him to now!