What's included in horse rider insurance?
We've touched on this already. If you have an accident while riding a horse, rider insurance will usually pay out in the case of a serious injury. It's not nice to think about, but rider insurance could act as a financial lifeline in the event you are temporarily or permanently disabled.
Bear in mind, however, that an insurer can insist that you wear protective headgear while riding. So, if you were to suffer an injury and you weren't wearing any headgear, you might not be able to pursue a successful claim. But that doesn't bear thinking about – it makes complete sense that you take adequate precaution.
If an accident causes you to be hospitalised, insurers will typically pay a set amount for each 24 hours you are in hospital. But it's always wise to study your policy for the fine details so that you know what you can expect should you have to claim on it.
Usually, you can negotiate with an insurer on the upper limits of your policy. For example, if you wanted personal accident cover up to £20,000, it's unlikely to be a problem – just be aware that you might have to pay more in premiums.
It's not only your personal wellbeing you need to think about in the event of a horse-riding accident. Your horse might also be in need of some attention. If the horse you are riding is injured in an accident and needs immediate treatment, most rider insurance policies cover vet's fees up to a certain amount, usually between £1,000 and £2,000,
Before you claim, however, be mindful that the conditions of cover are strict and a vet must usually have to attend the scene of an accident for a claim to be successful. Meanwhile, some insurers may only pay out for external accidental visible injuries.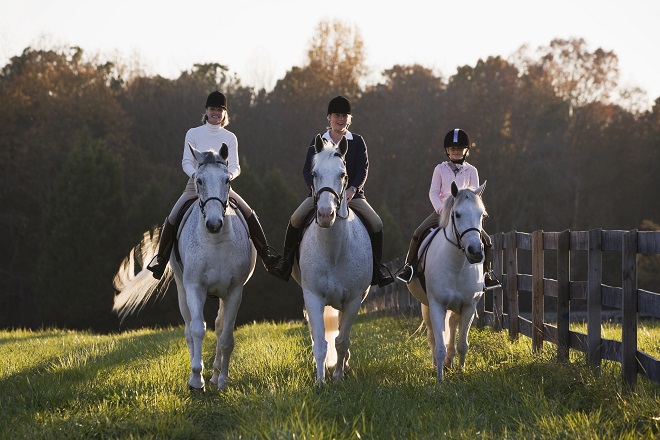 Public liability covers claims brought against you by a third-party following property damage or injury for which you are legally liable.
It's not inconceivable that the horse you're riding could accidentally cause damage or injury to another person or their property. If it does, you're legally responsible for the damage.
All it needs is for your horse to be spooked by something – a car travelling too fast, for instance – and it might bolt off, leaving a trail of damage.
Saddlery and tack is usually covered under rider insurance – but only up to a set amount, usually £1,000. You may also be able to add other pieces of equipment to your policy, such as a trailer, if you are concerned about it being damaged or stolen. These types of additions can prove smart if you have to travel to and from the place you are riding, when there is greater risk of damage or theft.
Equesure's horse rider insurance features and benefits can include:
Public liability available
Personal accident cover up to £20,000
Personal dental treatment cover up to £2,000
Saddlery & Tack cover available on all policies up to £1,000 (single article limit)
Vets fees up to £1,500 (external accidental visible injuries only)
Permanent total disablement
Death of rider cover up to £20,000
Saddlery and tack
School fees
Custodial liability