There's a lot to consider when investing in a horsebox. Whether you've owned or looked after horses for years, or are new to the game, there's quite a bit of information you need to consider before investing. The world of horseboxes can be a little confusing, even for experienced equestrians or horse owners.
The health and safety of your horse should be paramount, not only when they're stabled and with their veterinary care, but also when they're on the move. To ensure your equine friend is properly cared for, we've put together a guide with all the key considerations when purchasing a horsebox from pricing, maintenance and upkeep to licensing requirements and insurance. Hopefully, it will demystify some of the questions you have about all things horsebox related.
What is a coachbuilt horsebox?
There are two types of horsebox bodies – coachbuilt and conversion. Coachbuilt horseboxes are where the body has been purpose-built onto the vehicle chassis. They often utilise stronger, better materials, they're relatively light and they are usually the more expensive of the two types.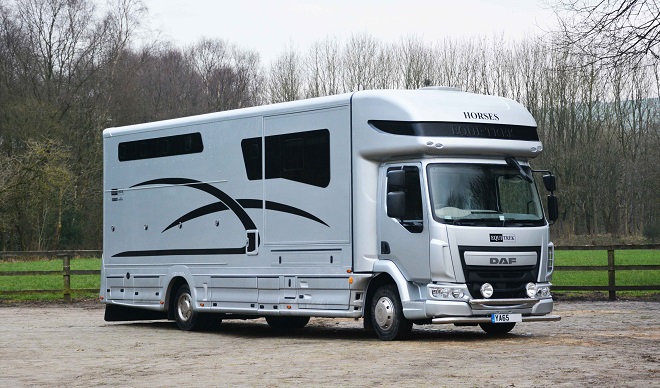 Conversions involve stripping out a commercial lorry and refitting it for the purpose of use as a horsebox. Inclusions are windows, partitions, a dividing wall, cooking facilities and sometimes accommodation space and showers. This is the cheaper option, and if done correctly are completely fit for purpose. How luxurious the accommodation is will affect the price.
How much do horseboxes cost?
Brand new horseboxes are a large investment and prices can seem quite daunting at first glance. It's worth deliberating on how much use you will get out of your purchase, how many horses you need to transport and the mod cons you want included.
Equine transportation in its simplest form is available as a horse trailer for towing, primarily by a four wheel drive vehicle, and are the cheapest option. Prices for brand new models start around £5,5000 excluding VAT for simple setups, moving through to the £15,000 mark for a larger top-of-the-range model. The benefit of a horse trailer is they offer the flexibility of not needing an entire vehicle dedicated to transporting your horse. These are great solutions for people that only transport their horse occasionally for leisure purposes.
Moving into the horsebox category, small and large vehicles are available and offer basic fit outs through to luxury vehicles with living quarters in addition to space to transport your horse. Smaller models are often available as compact, easy-to-drive vehicles that weigh around 3.5 - 5 tonnes. Brand new, you'll be looking at starting prices of around £27,000 excluding VAT, all the way up to £42,000, primarily based on whether there are any accommodation facilities included.
The largest horseboxes look more like large lorries and will set you back anywhere from £65,000 + VAT up to over £750,000. These models are generally used by professional equestrians who are travelling with their horses regularly to competing events and some non-professional horse owners but them stay away with their horses for weekends away at the beach or camping. They are often 7.5 tonnes upward and include a variety of luxury inclusions such as double beds, tables, wardrobes and fitted cupboards, shower rooms/bathrooms and kitchen amenities. These are the top-of-the-range vehicles that are designed for extended periods away.
For those who don't require regular use of a horsebox or horse trailer, purchasing second hand may be a more suitable and cost-effective option. Small horseboxes can be picked up pre-loved for as little as £2,000 or starting from £5,000 for larger vehicles.
Resale value of a horsebox
Horseboxes are much like other vehicles and their value depreciates over time based on the age of the vehicle and mileage, as well as the condition they're in. Ensuring you keep up the maintenance of your horsebox will go a long way to holding as much resale value as possible. A few things to keep in mind for maximising how much you can make if reselling your horsebox are:
Avoid rust, damp patches or signs of rotting
Check for damage to the tyres – it's advisable to replace them if they are not of high quality
Ensure there are no oil leaks and the check engine light does not come on when starting the ignition
Ensure the lighting for the horse and living areas are run from a separate battery than the vehicle
Check all exterior lights including break, rear and headlights, and indicators
Make sure all hinges and springs are in good condition on the ramp, and it can be opened by one person
With the cost of a horsebox weighing in as a heavy investment, especially for those who don't require regular use, finding creative ways to utilise your horsebox can help your investment go a lot further.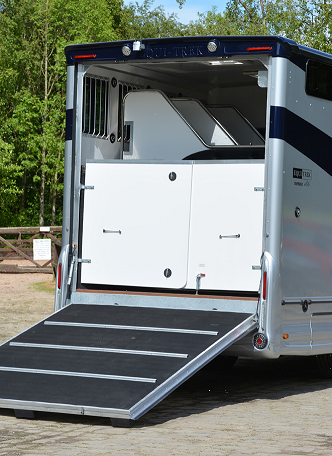 Maintenance for your horsebox
Upkeep of your horsebox is key to maintaining the safety of your vehicle. VOSA is the government body responsible for vehicle safety and environmental standards, and carry out annual checks to ensure horseboxes meet the minimum requirements for safety and environmental testing. In addition to annual testing, VOSA also carries out regular roadside inspections around Great Britain.
Should VOSA find any issues or dangers that can affect the environment, you will need to complete repairs before MOT can be issued on your vehicle. Serious faults will involve you needing to recover your vehicle from the testing station. Frequent checks on the components prone to wear and tear should also keep your vehicle in good health should you be called upon for a routine check.
What is payload on a horsebox?
It's extremely important to know the payload of your horsebox before you take it on the road. The payload is the weight of your horse or horses, people, fuel, water and tack that your vehicle can legally carry. You can find out the payload of your vehicle by taking it to a weighbridge and measuring it, ensuring it's empty to get an accurate reading. Alternatively, the manufacturer of your vehicle should be able to advise you of the payload of your horsebox, provided there have been no modifications made since purchase. The easiest way to think of the payload is the maximum weight of cargo you can carry minus the weight of the vehicle.
The average payload of a 3.5-tonne horsebox is approximately 1,000kg, however, it's always advisable to confirm the payload of the individual vehicle to avoid overpacking your horsebox.
The weight of an average horse is around 600kg, this means if you have a 3.5-tonne horsebox, you will only be able to carry one horse in addition to the tack, fuel, water and people you will also be travelling with. If you require transportation of more than one horse you will more than likely need to use a larger vehicle.
To maximise your payload, you should consider whether you require fixtures and fittings such as sinks, beds, kitchen facilities or large storage spaces. These items can significantly decrease how much weight you can use on essential items, and may not be required if you are travelling short distances or do not require overnight stays away from home.
It's essential to always be aware and not exceed your horseboxes payload to protect the safety of your horse.
So, is a horsebox a commercial vehicle?
If you're using your horsebox for business purposes, it will be deemed a commercial vehicle. So,  if you are using it to transport for significant income sources, it's commercial. You are required to comply with the EU Drivers' hours regulations if you are using your vehicle for commercial purposes and it's over 3.5 tonnes. These regulations stipulate that:
You can't drive more than 56 hours per week
Drive no more than 9 hours per day, although this can be extended to 10 hours on two days of the week
Do not drive more than 90 hours in two consecutive weeks
If you are using your horsebox for commercial purposes, there are also different licensing requirements than if you intend on using it purely for recreational or hobby purposes.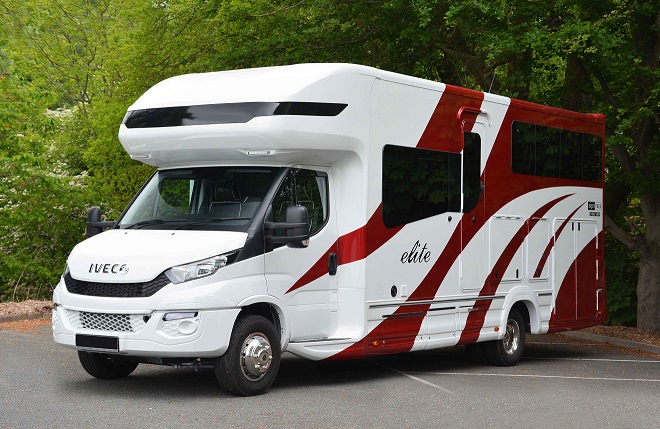 Licensing requirements for horseboxes
Things can seem a bit more complicated than they need to be when it comes to the licence requirements for horse owners. For those wishing to transport horses, there are two licensing categories, the operator's licence and a driver's licence.
An operator's licence is designed for those who need to transport horses for commercial purposes. If you qualify as a commercial enterprise you will require both an operator's licence along with appropriate CPC certification. A driver's licence, however, is required if you are moving horses for hobby or recreational purposes. In order to qualify for a driver's licence, you will need to meet the following criteria:
Moving horses for hobby or recreational purposes only
A significant portion of your income is not generated through the transport
The horse transportation doesn't pertain to business operations
You do not hire your services to another hobbyist that require horse transportation
If you are eligible for a driver's licence, you are then subject to normal licensing requirements for vehicles based on class and weight. For towing a trailer with a standard car or 4WD you will need a category B and E licence which allows you to tow a trailer with a mass greater than 750kg and a combined vehicle and trailer weight of more than 3.5 tonnes. You must not exceed a total weight of 7.5 tonnes on this licensing category.
A category C1 licence is required for vehicles greater than 3.5 but not exceeding 7.5 tonnes. Drivers who passed their test after 1997 are required to take a test before you are licensed under this category. You can take a full category C test that will automatically provide you with a C1 licence.
For those planning on driving large horseboxes, you require a category C licence that is required for HGV vehicles. There are 4 different licences under category C and these depend on the weight and class of the vehicle you will be driving.
Training is available for HGV drivers, including those driving horseboxes, but those opting for towing a horse trailer may also find training beneficial as towing a trailer can be more difficult especially if you've never done it before. Training will help ensure your horse, pony, gelding/stallion or mareis safe and sound while you're making your way from A to B.
Horsebox insurance
Specialised horsebox insurance is essential before you take your horsebox on the road. You'll be carrying precious cargo when using your horsebox, so it's key to provide a safe environment for your driver, passengers and horse.
There are different options available for your choice of horsebox insurance cover, with most insurers/brokers offerng roadside assistance and/or nationwide recovery of your horse(s) and horsebox which can save you from lengthy delays on potentially dangerous areas of road.
Equesure's breakdown service provides DEFRA registered horse(s) recovery to a destination of your choice and your horsebox can be taken to another place of your choosing (garage for repair or home/livery yard) You can also select policies that cover anyone over the age of 25, which means someone else can drive your vehicle if you're unable to.
Comprehensive cover is the top tier of protection for your horsebox, giving you the widest cover. It includes not only third-party payouts for valid claims but also covers your vehicle in the case of damages. It also generally covers you for accidents caused by your horse such as kicking, as well as vandalism and windscreen repairs.
Third party, fire and theft policies will cover you for any damage caused by your vehicle. You're also insured if your horsebox is stolen, or in instances of arson or accidental fire, but you won't be covered for damages that are sustained on your own vehicle either caused by yourself or any uninsured third party.
The most basic insurance on the market is third-party only policies but most insurers now refuse to offer this cover as it isnt in the clients best interest to have no personal cover. These will only pay out for damages to other vehicles if you are at fault. Your own vehicle is not covered for damages in an accident where you are at fault, it's stolen or affected by fire.
It's important to note that your horsebox insurance does not cover your horse, and that will require an additional, specialised policy.
To make sure your equine friend is protected, get a quote for horsebox insurance from Equesure today.
Keep up to date with news, and events by following our Facebook page.
Our insurance policies at a glance: